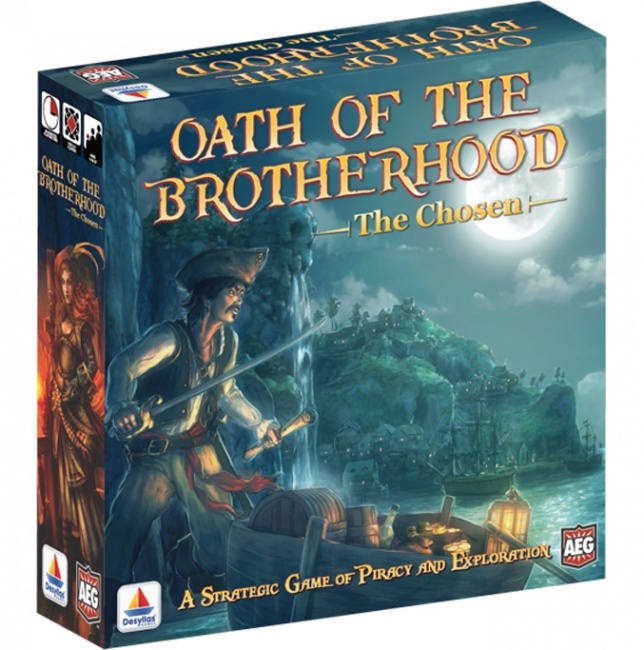 Alderac Entertainment Group has announced that it will release
Oath of the Brotherhood:  The Chosen
a week later than originally planned, on June 14.  The company has also released more details on its August releases,
Unicornus Knights
and
Custom Heroes
.
Oath of the Brotherhood:  The Chosen, is a pirate-themed worker-placement style designed by Yangelis Bagiartakis (Among the Stars, Dice City) and Tony Cimino (Wrong Chemistry).  In the game, players send their "Mates" to various locations around Isla Granjua to gather allies, equipment, and supplies, which are used to complete secret Missions.  Successful Missions award victory points, and the player with the most points after seven rounds claims the victory.
The game includes 1 main game board, 5 smaller player boards, 100 cards, 132 tokens, 5 wooden pirate meeples, and 15 wooden mate meeples.  Oath of the Brotherhood can be played by 2 to 5 players, ages 14 and up, and takes 60 to 90 minutes to play.  MSRP is $49.99.
Alderac is publishing Oath of the Brotherhood in partnership with Greek publisher Desyllas Games, who originally produced the game in 2015.
Unicornus Knights, announced in February (see "Cooperative Fantasy 'Unicornus Knights'"), will release on August 17.  Alderac has set the MSRP for this "Big in Japan" series game at $49.99.
Alderac announced Custom Heroes at the GAMA Trade Show (see "'Custom Heroes,' 'Smash:  Up Big in Japan,' OP Kits").  This combination Card-Crafting and trick-taking game will release on August 30.  Also part of Alderac's "Big in Japan" line, this game will come with 60 cards with 80 card sleeves and 84 card advancements that can be used to customize the cards during play.  There will also be 112 tokens, 6 player screens, and a cloth bag.  Custom Heroes is intended for 2 to 6 players, ages 14 and up, and plays in about 45 minutes.  MSRP will be $29.99.