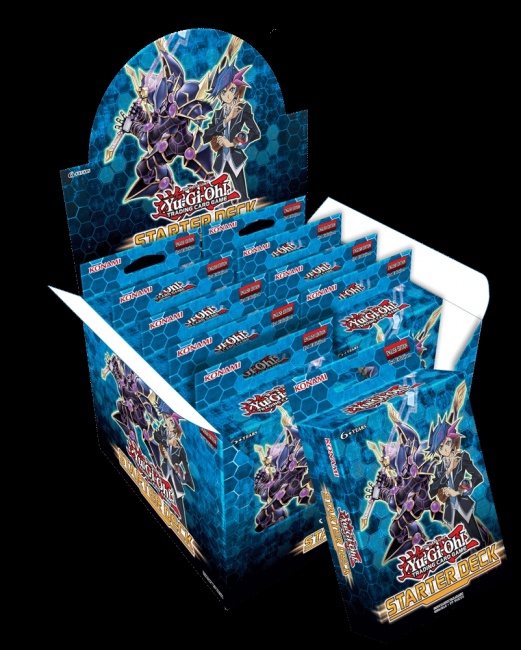 Konami Digital Entertainment has shared pictures and information for upcoming summer releases for its
Yu-Gi-Oh! Trading Card Game,
including
Light's Revenge – Special Booster Box, Link Strike! – Starter Deck,
and
2017 Mega -Tins.
The Link Strike! – Starter Deck will release on July 21. The deck is a good introductory product for new duelists. The Link Monsters allow Duelists to bring a new level of domination to the Duels by introducing Link Monsters and the new Link Summon method, which allows Duelists to decide where they want to play their cards. Link Monsters also allow Duelists to control many different monsters Summoned from their Extra Deck at the same time. Future core boosters, including Code of the Duelist releasing on August 4, will include new Link Monsters.
The 43- card Starter Deck includes 38 Common cards, 3 Super Rares, and 2 Ultra Rares, as well as a beginner's guide and updated playmat with new Extra Monster Zones. Each display includes 10 deck, and each carton includes 12 displays.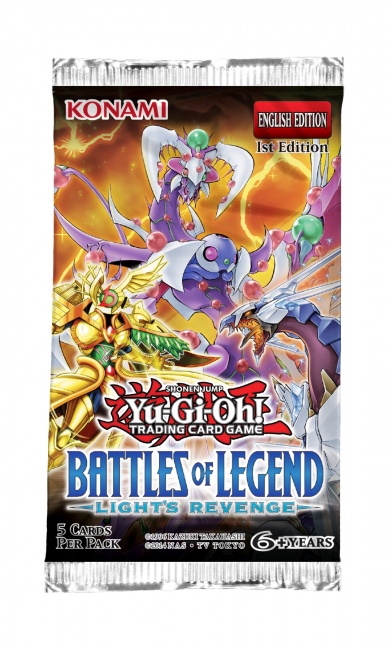 Battles of Legend – Light's Revenge
special booster box will release on August 4. This release includes cards from climactic Duels from multiple
Yu-Gi-Oh!
animated shows to print for the first time, as well as championship-winning cards from organized play. Cards will include Minerva, the Exalted Lightsworn, new Gladiator Beast cards, Synchro and Xyz monsters, Timelords, new D/D/D monsters, new cards for the
Dinosmasher's Fury Structure Deck,
and new Destiny HEROes and Abyss Actors.
Each 5-card pack includes 4 Ultra Rares, and 1 Secret Rare. Each display includes 24 packs, and each carton includes 12 displays.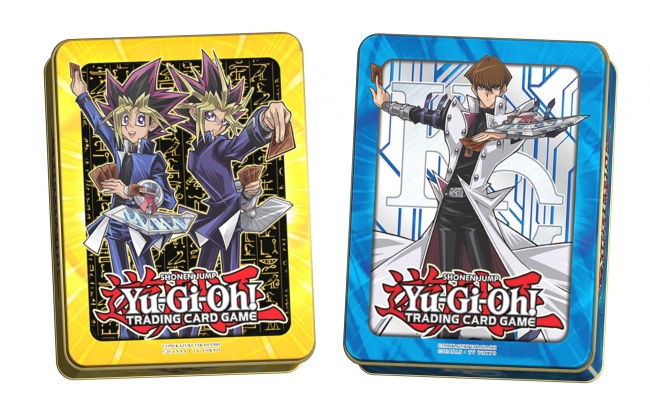 The
2017 Mega-Tins
are an annual favorite for Duelists. Each tin includes 3 x 16-card
Mega-Packs
which include top cards from 2016 and 2017's booster sets:
Shining Victories, The Dark Illusion, Invasion: Vengeance
, and
Raging Tempest.
Each
Mega-Pack
includes 1 card of each foil rarity (1 Secret Rare, 1 Ultra Rare, and 1 Super Rare). The tin will also come with additional variant cards (non-randomized). The metal storage case includes new artwork for either Yami Yugi & Yugi Muto, or Seto Kaiba.  The 2017
Mega-Tins
release on late August with an MSRP of $19.99 each.
These releases will follow the Pendulum Evolution booster expansion releasing in June (see "'Pendulum Evolution' Booster Expansion").
See multiple images in the gallery below!